Need a break from cake and cookie baking this holiday season? No problem! These 20 No-Bake Holiday Desserts from some amazing food bloggers are sure to help you out.
THE HOLIDAYS ARE HERE
The Holiday Season is a wonderful time of the year. Spending time with family, work parties, and eating holiday desserts are my favorite things to do. No matter how fun all of those things are I always feel a little overwhelmed. Mostly overwhelmed with all of time consuming and involved cooking projects I take on.
Lucky for us, dessert making doesn't have to be overwhelming! I've put together this list of 19 No-Bake Holiday Desserts and I hope you enjoy the list and have a chance to make some of these delectable bites!
PEANUT BUTTER PACKED BITES
1950's No-Bake Peanut Butter Bites – This recipe is easy, packed with peanut butter, and only require 5 ingredients. These delicious vintage inspired little morsels are sure to go quick at your next holiday potluck! – Cup of Zest
Apple Nachos with Peanut Butter Chocolate – Super customizable, you are sure to make any guest happy with these fruit nacho bites! – Trial and Eater
Holiday Reindeer Cookies – Peanut butter and chocolate (the perfect pairing of flavors) are key ingredinets in these super cute Reindeer Cookies. – Domestic Superhero
CHEESECAKE NO-BAKE HOLIDAY DESSERTS
8 Ingredient Passion Fruit Cheesecake Jars – Super easy, and sure to impress your friends, these little cheesecakes sound delicious and classy – My Food Story
No Bake Pumpkin Cheesecake Cups – Grab two tickets to "dessert indulgence city" when you make these decadent dessert cups for your holiday date night! – Jessica Gavin
No- Bake Eggnong Cheesecake – If you are looking to get that eggnog fix as often as possible this season make this no-bake eggnog cheesecake and you will be a happy camper! – Cincy Shopper
Individual No-Bake Cheesecake – Impress your friends and be the perfect host for small gettogethers this season with these surprisingly simple individual cheesecakes – Betsylife
No-Bake Peppermint White Chocolate Cheesecake – These individual no-bake desserts hit all of the marks for the holidays! Chocolate, peppermint, adorable, and easy, make these special bites for your Lady's Only holiday party. – Cooking Classy
NO-BAKE HOLIDAY DESSERTS GREAT FOR GIFTS
Easy Christmas Tree Treats – Whip up these adorable little Christmas Tree Treats and all of the kids in your life will light up with joy! – Miss Semi Sweet
Festive Dark Chocolate Bites – Melt some chocolate and add your favorite toppings, thats it!  Then, give these rich bites of chocolate to your co-workers as fun edible holiday gifts. – Hello Fun Seekers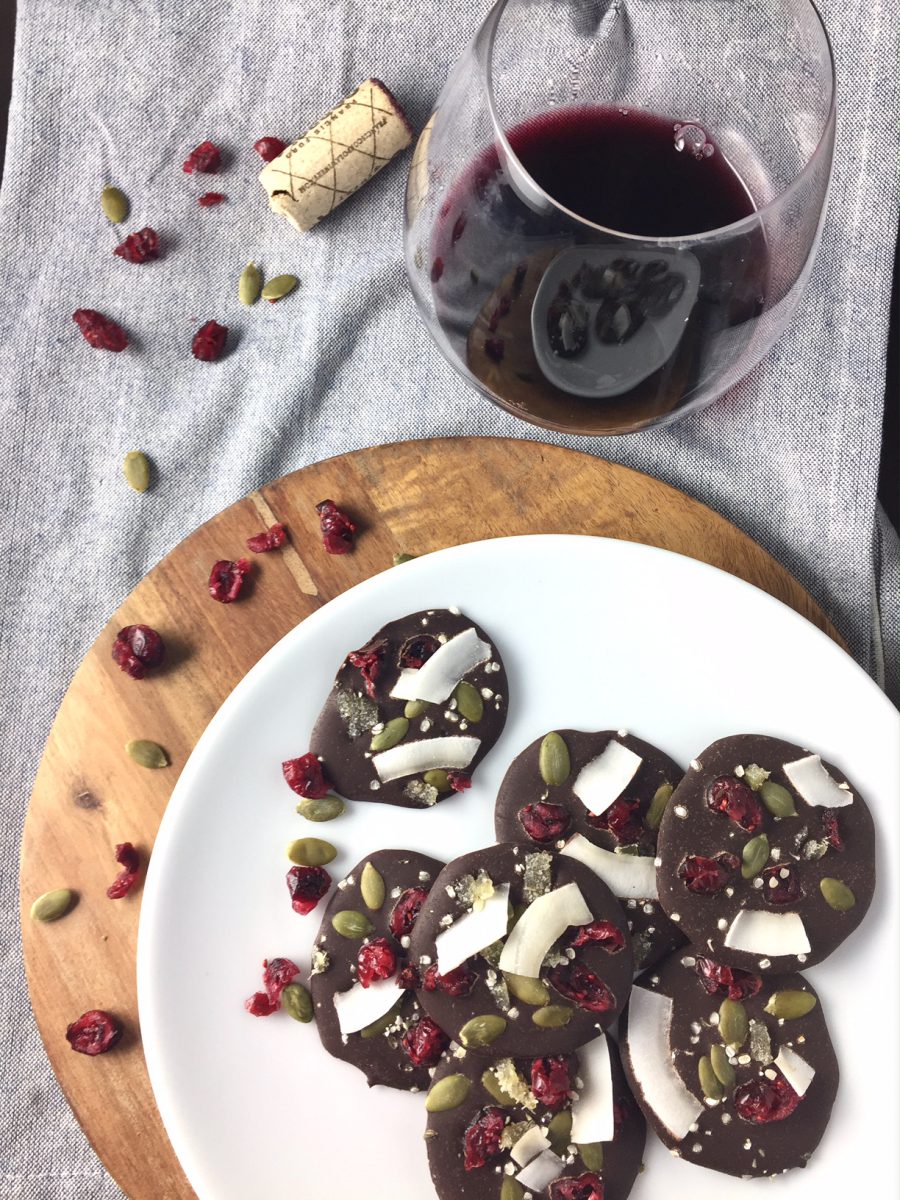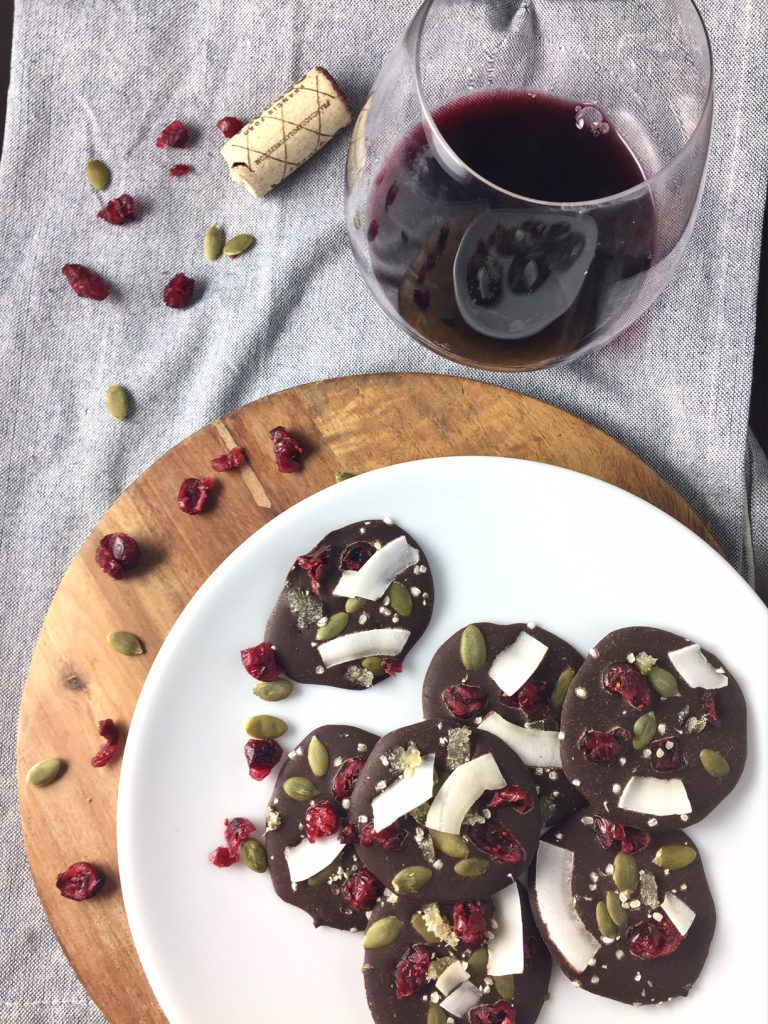 Microwave Chex Caramel Crunch – Have some little kitchen helpers in your life? Have them help assemble these llittle bundles of goodness as gifts for neighbors – The Gingham Apron
Creamy M&M Mints – Peppermint and chocolate are a perfect couple in these one bites of deliciousness – Smart School House
Chocolate Coconut Clusters – Packed with chocolate and coconut goodness wrap these little guys up and share them with your friends! – Cup of Zest
CHILLY BITES AND DRINKS
Skinny Iced Peppermint Mocha – If you are looking for something on the lighter side (balance is key!), this decedent sounding drink is for you! – Jar of Lemons
Chai Milkshakes – Chai is a must for me during the holidays, and blend it up with some ice cream to make a milkshake…yes please! – Suburban Starter
No-Churn Red Wine, Strawberry & Salted Dark Chocolate Ice Cream – Mix up a batch of this adults only ice cream, keep it in the freezer.  Perfect for sharing it with friends after an intimate dinner party – Pass Me Some Tasty
Ritz Cracker Peppermint Cookies  – These 3 ingredient salty and sweet cookies are so easy to make and best served frozen! – Meg is Well
ONE BITE GOODNESS
Gingerbread Truffles – Yay for no-bake 3 ingredient desserts! These truffles are packed with holiday flavor and wonderful to bring to a holiday potluck. – Six Sisters Stuff
Kahlua Cheesecake Balls – I love a one bite dessert and this one has Kahlua in it! It must be a keeper! Serve a batch of these balls up at your next adult only party. – Bake Play Smile
Simple Rich Refrigerator Fudge – Fudge is great for parties and everyone loves it! Cut it into bite sized pieces and you are golden. – Cup of Zest
I hope that you get a chance to make some of these no-bake holiday desserts, and if you like this post it would be great if you share the image below on Pinterest!